Con's fans, friends and family gathered New Year's Eve at the Holiday Inn Select Downtown in Knoxville to celebrate the new year and the launch of his new CD Sweet Memories.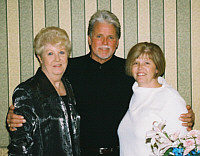 A special reception was held prior to the show for fans to meet with Con and receive a signed copy of the CD. Several fans had their picture taken with Con and a few lucky ladies got to sit on his lap! As you can see from these snapshots, the Smoky Mountain Blue-eyed Darlin' is still a ladykiller!
After the signing party the Holiday Inn was rocking with the cool sounds of the Chillbillies, followed by a great set by the Hunley Brothers and Ruth. By the time Con and his band took the stage, the adoring crowd was really geared up for some great music. As usual, Con didn't disappoint. He sang almost all of the songs from Sweet Memories and also did some of his old hits. The dance floor was packed all evening long, and you could feel the love as the final minutes of 2003 ticked away and Con led the crowd in "Auld Lang Syne". If the early hours of 2004 are any indication, it's going to be a very good year!